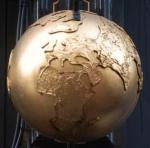 Summary of Beer Scores
The pub is found in City, Central London, EC2M 6SA.
A landmark pub at the southern end of Moorgate. It has a slightly complicated history, being two pubs that have merged into one. The Globe was present by 1734 and traditionally was a Charrington's Brewery house and usually went by the nickname "The 199". Next door was a pub called the Swan & Hoop (possibly the birthplace of John Keats), which was renamed the Moorgate in around 1878 and later became called the 'John Keats'. In 2007, the two pubs merged, although they almost operate still as two separate premises, with a separate feel to each bar. The combined pub became part of the Nicholson's chain in 2010. Both bars feature a kind of Modernised-Victorian decor. Upstairs rooms also available.
We have visited this pub 3 times, seen 15 different beers and tried 4 of them.
Postcode: EC2M 6SA