Ubrew

(Brewery)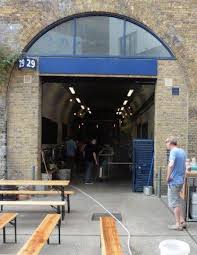 Stephen Harris
Visits Details
28 Jul 2017 (Stephen Harris)
I donít know how long this has been the case, but I discovered tonight that this taproom opens on Friday evenings. It is busy, with both brewers and drinkers. About 10 key-keg beers on sale, plus a fridge full of bottles and cans.
| | | | |
| --- | --- | --- | --- |
| Ubrew - Hoplust Stout | 5.00 | | Poured from a bottle. Near-black in colour. Somewhere in the hoppy Stout / Black IPA borderline grey area. So lovely that I bought extra bottles to take away. |
| Ubrew - Beast Mode | 4.50 | | From a keg of some kind. A coffee-flavoured, chocolaty Milk Stout. Delicious. |
08 Aug 2015 (Stephen Harris)
Special opening today as part of London Beer City, with up to a dozen beers available that have been brewed by Ubrew members Ė except that only three are ready at the time of my early visit. Itís a scorcher of a day and I am joined by three friends at a trestle table out the front in the sun.
| | | | |
| --- | --- | --- | --- |
| Ubrew - Paddyís Burley Porter | 6.20 | | On key-keg dispense and served a bit too flat. Black. Very bitter Ė Bourneville chocolate tastes. |
| Ubrew - Matt & Samís What the Fuggle? | 5.50 | | On key-keg dispense and in good condition. A very cloudy yellow/gold colour. I suspect that a lot of Fuggles hops have been harmed in the production of this beer. |