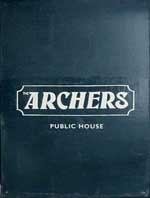 Summary of Beer Scores
The pub is found in Aldgate, Central London, E1 6TD.
This street corner pub was present by 1821 and earlier called the Archers Tavern. Traditionally a Whitbread's pub, it has rarely sold cask beers in recent history – a couple of experiments in the 1980s and 1990s being unsuccessful. January 2016 has seen a return to cask beer, with four handpumps on the bar. It is a small, single-bar pub, stripped back to basics, with a nice fireplace against one wall. Close to Aldgate East station and handy for Brick Lane.
We have visited this pub 3 times, seen 8 different beers and tried 3 of them.
Postcode: E1 6TD