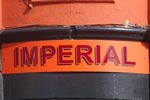 Summary of Beer Scores
The pub is found in Hastings, East Sussex, TN34 1RL.
A street corner pub opened in 1869 as the Imperial Inn, at what was then the edge of town. In 2014 the name of the pub was changed to Forbidden Fruit, but this venture did not last long and the pub stood empty and forlorn for a couple of years. The pub re-opened as the Imperial in September 2016. It now has a stripped-back décor, three handpumps on the bar and a pizza oven. Also visible behind the bar is the brewing equipment of the Brewing Brothers, the new in-house brewery.
We have visited this pub 3 times, seen 16 different beers and tried 8 of them.
Postcode: TN34 1RL