The Malling Jug

(Freehouse)
Visits Details
15 Apr 2017 (Philip Pirrip)
Early evening visit. Not all what I expected, to be confronted by a waitress upon arrival to take my order. Perhaps initial local fad but was packed and became very noisy. I think there is a curfew time on the outside garden area, which brought more people inside. The PT values on the blackboard flummoxed me until I was told it referred to Periodic Table (of beer styles).
| | | | |
| --- | --- | --- | --- |
| Kent - Summit Single Hopped Pale Ale | 4.50 | | What a contrast to the Ēostre, nice head and lots of condition |
| Kent - Ēostre | 4.20 | | Tasty enough Citra hop beer but no head and as flat as a pancake so rather unappetising |
| Dark Star - Hophead | 3.80 | Not Tried | |
| Kelham Island - Easy Rider | 4.30 | Not Tried | |
| Thornbridge / Thornbridge Hall - Jaipur | 5.90 | Not Tried | |
| Kent - Session Pale | 3.70 | Not Tried | |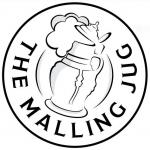 Summary of Beer Scores
The pub is found in West Malling, Kent, ME19 6LU.
Hidden down an alley in High Street, opposite Swan Street, a Micropub furnished in a smart and contemporary style, which opened in early April 2017. An L-shaped floor area with a mixture of high and low tables with mainly bench seating. Real ales and ciders are sold from behind a small bar counter, on gravity dispense from a temperature controlled cellar room. Outside patio garden. At busy times waiter/waitress service applies. The beer backboard shows brewery, name, abv, PT and pint price, and PT stands for Periodic Table and nearby is a poster explaining how the periodic table of beer styles works.
We have visited this pub once, seen 6 different beers and tried 2 of them.
Postcode: ME19 6LU