The Nicholas Culpeper

(TSG Concessions (part of Restaurant Group))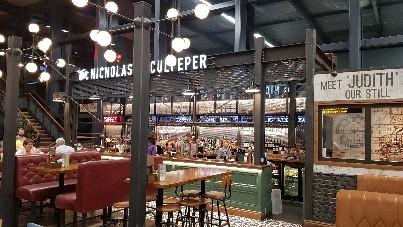 Jason Jones
Visits Details
11 Sep 2017 (Magnus Greel)
2100ish we ventured over here for food as our Premier Inn restaurant had an hour waiting time whereas this was not very busy. Friendly and fast service for such an outlet, I was even offered a taster of the house beer.
| | | | |
| --- | --- | --- | --- |
| Greene King - Nicholas Culpeper IPA | 4.10 | | Rather bland but in spot on condition with good carbonation. |
| Greene King - IPA | 3.60 | Not Tried | |
Summary of Beer Scores
The pub is found in Gatwick Airport, West Sussex, RH6 0PJ.
Located in Gatwick Airport's North Terminal (Landside). London gin is distilled on site. It is named after Nicholas Culpeper, born less than two miles away from the end of Gatwick Airportís runway, who was an English botanist, herbalist and physician in the 1600ís.
We have visited this pub once, seen 2 different beers and tried 1 of them.
Postcode: RH6 0PJ