Kent Beer Festival 2009

(CAMRA Beer Festival)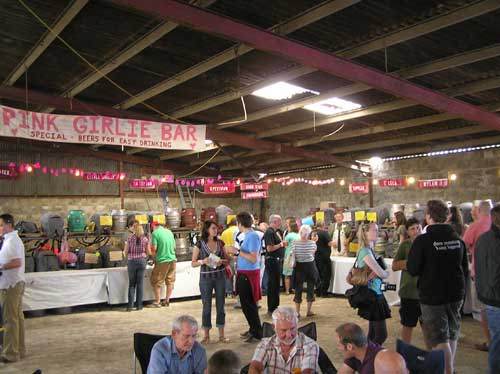 Visits Details
18 Jul 2009 (Andrew)
Jane drove me over and then went off to a children's play ground in Bridge for an hour with Isabel. As I walked in I saw Adrian talking to Chris and Josef from work. It was fairly busy and after getting a beer I sat with Adrian and his friends in more or less the same place as usual. An hour later I had to go but I made sure I got in a visit to the container-toilet with its welded gutter of a urinal even though I didn't need to go. Shame I couldn't stay longer.
| | | | |
| --- | --- | --- | --- |
| Spectrum - Light Fantastic | 3.70 | | Light gold colour. Fizzy, hint of lemon. Bit of nothing really. |
| High House Farm - Auld Hemp | 3.80 | | Brown. Tasted of burnt malt and burn perspex. Not that great to be honest |
| Tipple's - Longshore | 3.60 | | I like Norfolk brewers but this outing wasn't that special. It was a light gold beer dominated by a harsh nettley hop. |
| Thornbridge / Thornbridge Hall - Wild Swan | 3.50 | | I didn't like this. This was an anaemic apple gold colour (making it look like a perry). It was astringent with a lemon-grapefruit hop bite. |
17 Jul 2009 (Andrew)
Well I had a lunch break and there was a beer festival on. Bumped into Brian, Pete and Marcus and spent a pleasant 15 mins talking to Brian about his forthcoming trip to see that daffodil loving icon of pop, Morrissey. The festival wasn't too busy but then it hadn't been open long. Nice and relaxed is what it was.
| | | | |
| --- | --- | --- | --- |
| Ramsgate Brewery (Gadds') - She Sells Sea Shells | 4.70 | | Been wanting this for ages having read all Blair's reviews of it. Umm, clearly the recipe has changed since Blair had it. I didn't get any toffee or caramel at all (which was what I was looking forward to). Instead I got a light golden beer (in excellent condition by the way) that had a nettley-peppery hop with a hint of lemon grass. It was a lovely beer but not exactly what I was expecting. |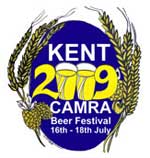 Summary of Beer Scores
The pub is found in Canterbury, Kent, CT4 7BA.
Kent CAMRA's wonderful beer festival held in a big old cow shed on the outskirts of Canterbury.
We have visited this pub twice, seen 5 different beers and tried them all.
Postcode: CT4 7BA