The Golden Lion

(Admiral Taverns)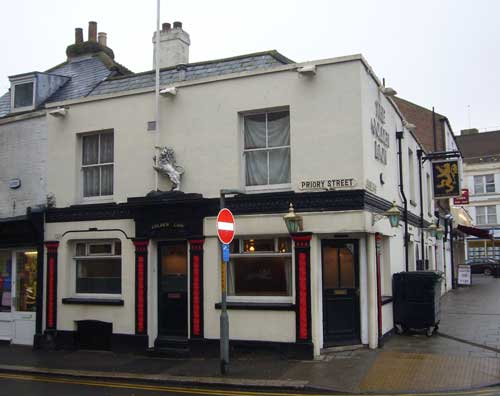 Visits Details
03 Oct 2019 (Philip Pirrip)
Mid evening visit. Clearly an excellent loyal local following with a well adorned and noisy 80th birthday party in full swing. Only one handpump here but not in use so Draught Guinness was downed.
04 Feb 2014 (Philip Pirrip)
Evening - closed with "Closed till further notice" in front door window. My oh my this pub has recently had a chequered history of openings and closures. When it does re-open it will need a USP.
19 Feb 2013 (ChrisE)
This pub has re-opened after a period of closure, it has been redecorated internally and externally.
| | | | |
| --- | --- | --- | --- |
| Tetley - Bitter | 3.70 | | Badged as Golden Lion |
| Sharp's - Doom Bar | 4.00 | Not Tried | |
15 Nov 2012 (Philip Pirrip)
Currently undergoing a significant lick of paint with strong rumours of imminent re-opening.
22 Sep 2012 (Alenomore)
17:00 visit. Sad to note, yet another boarded up pub in Dover. Not sure for how long or if it will re-open. A mixed bag today, with several new places visited. All were very good with some worthy gbg entrie's.
20 Sep 2012 (Philip Pirrip)
Sad to see this pub on the way from and later to the station in its boarded up state. Has been like this for some months now.
04 Feb 2011 (Andrew)
I've not been here for over 10 years. There aren't many pubs left that have all their windows frosted-out but this is one of them. Meant I couldn't see what beer was on before going in so it was a bit of a risk entering. The landlady was friendly though and poured off about a pint before giving me my beer. The jukebox was playing some kind of street-music. There were a handful of locals in but then it was only 11:30am.
| | | | |
| --- | --- | --- | --- |
| Greene King - Ruddles Best | 3.70 | | This was actually much better than I thought it would be. Syrupy brown bitter with some interesting notes. |