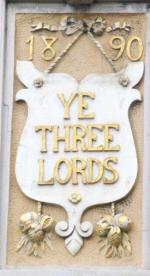 Summary of Beer Scores
The pub is found in Aldgate, Central London, EC3N 1DD.
The earliest date I have for this pub is 1804, but the fact that the three lords in question were executed on nearby Tower Hill for their part in the Jacobite Rebellion of 1745 suggests an earlier foundation date. The pub was rebuilt in its present form in 1890 and is one of the oldest surviving buildings on the Minories. The premises fell out of pub use at some point, but were re-opened by Young's in 1986. The ground floor bar is small and essentially a stand-up drinking experience. There is a larger and much more comfortable basement bar. In the early to mid-2000s, this pub seemed deliberately down-market, with scantily-clad barmaids, tabloid newspapers and loud music – but it has now moved considerably more upmarket, with an open-plan kitchen, a grey and white paint job, and modern fixtures and lighting.
We have visited this pub once, seen 5 different beers and tried 1 of them.
Postcode: EC3N 1DD