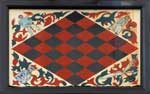 Summary of Beer Scores
The pub is found in Steyning, West Sussex, BN44 3RE.
Timber-framed building, probably of medieval date, refaced with brick, now painted, in the 18th century. Magnificent wrought iron pub sign support. On the right is a suite of rooms starting with a public bar with a bar counter and bar back shelving installed in the 1950s which replaced a passage and there is a 1920/30s Tudor stone arch fireplace. It is opened-up into a small room behind with a small brick fireplace - note the part glazed old screen on the left around the servery and part glazed partition wall around this room/area. It leads to a bare wood floor area called the Farmers Corner with small 1950s counter, old dado panelling and wood block floor. To the rear right is a room with 1930s parquet floor, large 1930s brick fireplace and there is also a small snug to the left with a stable door. On the left is the current main bar with a bar counter that may be 1950s, old dado panelling and a 1950s brick fireplace. The left side of the pub is an amalgamation of three small rooms with some of an old partition remaining and at the rear is a billiard room with a 100 year old three-quarters sized table and Victorian tiled and cast-iron fireplace. This room can be separated by a folding partition, which looks unused these days, old dado panelling. Acquired by Shepherd Neame in June 2016.
We have visited this pub twice, seen 7 different beers and tried 1 of them.
Postcode: BN44 3RE