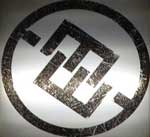 Summary of Beer Scores
The pub is found in Budapest, Hungary, 1094.
The pioneering bar in Budapest's vibrant craft beer scene. Set up in a former glassworks in a fashionable area just off the city centre, this bar is reminiscent of Budapest's famous 'ruin bars'. The name of the bar translates as 'Yeast'. The bar is located on a little street called Tűzoltó utca and is handily close to Corvin-negyed Metro Station. There are two main rooms, each with its own bar counter, and a large courtyard. Other rooms blur into neighbouring businesses, with a basement café and a street food-type vendor. None of the furniture or fittings are exactly new and some are downright decrepit. Up to 25 draught beers are usually available.
We have visited this pub twice, seen 8 different beers and tried 7 of them.
Postcode: 1094