Münstereifeler Brauhaus

(Brew Pub)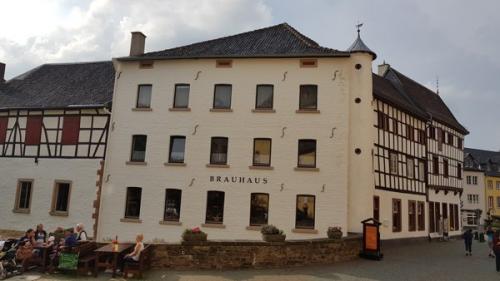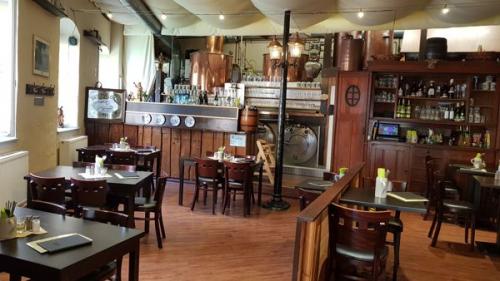 Visits Details
09 Oct 2018 (Magnus Greel)
Mid evening and busy inside with everyone dining, friendly welcome from the attentive staff, I chose to eat here and sat at a free table by the entrance.
| | | | |
| --- | --- | --- | --- |
| Münstereifeler Brauhaus - Landbier | 4.90 | | Alas my taste buds were tainted by my recently eaten Flammenkeuche so maybe the reason this didn't taste as flavoursome as expected. |
| Münstereifeler Brauhaus - Schwarzbier | 4.80 | Not Tried | |
24 May 2018 (Magnus Greel)
Late afternoon very well timed visit as everyone was sitting outside on the terrace thanks to the fine weather allowing me to take unhindered photos of the historic interior, which I shall upload upon my return home in a week's time. We decided to eat here and stayed until 2000hrs closing time.
| | | | |
| --- | --- | --- | --- |
| Münstereifeler Brauhaus - Landbier | 4.90 | | I was expecting a helles type beer yet this was served hazy with a wheaty yeasty head with subtle refreshing tropical citrus and coconut flavours, superb. |
| Münstereifeler Brauhaus - Schwarzbier | 4.80 | | Roast malts and coffee with a definite smoky palate. |
Summary of Beer Scores
The pub is found in Bad Münstereifel, Germany, 53902.
Es gibt Traditionen, die es verdienen, daß sie weiter geführt werden. Dazu gehört das Brauen von Bier, Wir sind glücklich und stolz das wir in Bad Münstereifel urtypisches Bier in Handarbeit brauen. Sei der zweiten Hälfte des 15 Jahrhunderts wird hier am Markt Bier gebraut, seit dem 1. Mai 1997 brauen wir hier in unser Gasthausbrauerei wieder Bier. Die alte Tradition haben wir wieder aufleben lassen. überzeugen Sie sich von unserer Kunst des Brauens in Handarbeit nach altem Verfahren und Rezepte. Dazu bieten wir Ihnen unkomplizierte Küche aus besten Erzeugnissen unserer Region an. Bei uns gibt es naturbellassene Braukunst und deftige Hausmannskost das werden Sie schmecken. Schön, dass Sie da sind und wir freuen uns, Sie bei jedem Besuch verwöhnen zu können.
We have visited this pub twice, seen 2 different beers and tried both.
Postcode: 53902