Some people may turn their nose up at Beer & Food Matching – which is a real shame, because I would probably say that I have 'converted' more people to trying more Beer through food matching than any other medium. It truly is a wonderful way to get to know beer, and I honestly believe that Beer offers more than wine in terms of depth and variety of flavours.
However, knowing where to start can be daunting. But once you get the hang of it, the world is your oyster (or pint glass, depending on how you look at it). So here's a quick 'starter for ten' guide to get you going. I've tried to pick beers that you can obtain at most supermarkets, for ease.
Fish and Seafood
A no brainer, really. The Belgians have known for a long time that Wheat, Weizen or Witbiers provide an excellent partner to shellfish. Wheat/Witbier's fresh, zingy and citrus-based character compliments all types of fish and seafood, assisted by the fact that it's a mellow, smooth drink, too. Try simple steamed mussels with Hooegarden for the classic touch; or Fried Calamari and Whitebait with a long glass of Franzikaner Wheat. For darker fish such as Trout, opt for a Dunkelweizen such as Erdinger Dunkel.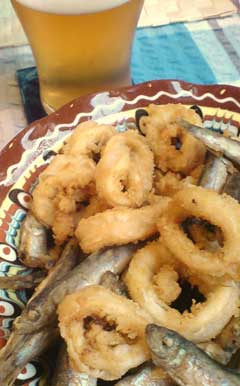 Poultry/Duck
Chicken, being as bland as it is, sits well with most pale ales. Duck, however, has much more to offer, and sweet fruit beers such as Leifman's Kriek, or a Timmerman's Peche, Geuze or Faro work really well and cut through that fat that Duck offers.
Beef
Beef is beer's friend. So robust, and so easily flavoured, Beef works well with almost any of the English Ales & Bitters. Try robust, stronger beers such as Bateman's XB, McEwan's Champion or Well's Bombardier with Roast Beef. Hamburgers, with their sweet pickles and sauces, find a partner in US Amber Ales or Steam Beers, such as Brooklyn Lager and Anchor Steam Beer.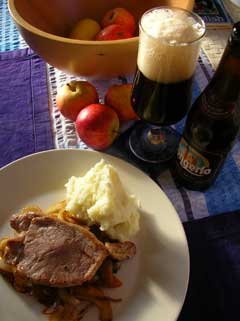 Lamb
Lamb, with its more delicate flavour, lies excellently with the darker Belgian Ales – try a Herbed Rack of Lamb with a Chimay Red. Minted Lamb Chops would find a partner in Orval; light, and with slightly herbal notes to lift the lamb.
Barbecued Meat/ Pork
You can go two ways here – pale, golden lagers and beers that quench the thirst and are easy-going, such as Hopback's Summer Lightning, Brain's SA and Goose Eye's Wonky Donkey – or go to accentuate the smoked notes and look for Porters and darker beers such as Flag Porter, Hambleton's Nightmare, Elgood's Black Dog or Erdinger Weissbeer Dunkel. Or you could mix the two! I personally like something a little wheaty on a warm day – such as Paulaner Original. Sausages and beer are an excellent match – something the Germans have known since day one!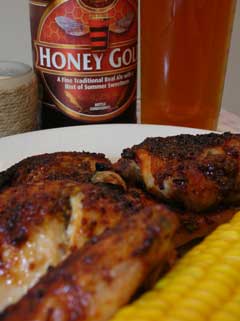 Pizza/Pasta
Pizza, especially if topped with strong cheeses and smoked meats, are excellent with Sweet, hoppy beers such as Sierra Nevada Pale Ale and Flying Dog Amber Ale. You can follow the rule for tomato-based pasta sauces. Freedom Beers also make a great Vienna Lager. Alhambra Reserva is also a toffee-centric beer that manages to be zingy and refreshing at the same time, and not too heavy to sit on top of all that dough or pasta.
Spicy Foods
Again, you have two options – to cool the fire with Pale Ales such as Cooper's Sparkling Pale, Kasteel Cru or Adnam's East Green – or go with something spicy and super-hoppy, such as the awesome White Shield IPA, BrewDog's Trashy Blonde or (my personal favourite) Belhaven's Twisted Thistle IPA.
Desserts/Chocolate
Chocolate and Stouts, such as Hopback Entire Butt, or Dark Milds such as Cain's Dark Mild, are a match made in heaven. Porters also go well with anything creamy and sweet – and for fruit-based desserts, just double up and keep the refreshing note going through Leifman's Kriek or Framboise fruit beers. Schneider Aventinus has loads of vinous/red berry notes, so match that with Christmas puddings or Spotted Dick. William's Midnight Sun has a massive Ginger and Cinnamon profile – well worth matching with a warm gingerbread or something like that.
Vanilla Ice Cream and Brooklyn Chocolate Stout is a match made in Heaven!
I hope I've been able to pique your interest. My best advice would be to simply try it – get cooking, and crack open some beers. You'll get the hang of it in no time.