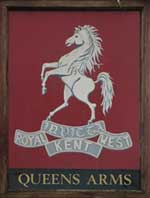 Summary of Beer Scores
The pub is found in Cowden Pound, Kent, TN8 5NP.
This is like pubs used to be. It is a completely unspoilt gem, Grade II Listed, and in the CAMRA National Inventory. In Hartfield Road at a crossroads, a small entrance lobby leads on the left to a saloon bar, originally a very small room that, in 1953, was increased to twice its size by combining with a previous private room. It retains its original curved Victorian panelled counter with decorative brackets all painted bright yellow. To the right is the popular public bar with a counter with 3 handpumps all selling the same beer. The landlady was, until very recently, Elsie Maynard, who sadly died on 20th April 2015 having left the pub for a nursing home some time before this, was born at the pub when it was run by her mother Annie. Many older locals still call the place Annie's. This pub has never sold lager. For many years there have been regular folk music nights here and there is even a folk group called Elsie's Band. December 2013 update: this wonderful unspoilt pub is under threat of closure as the landlady is now in a care home: it is currently being run by a band of locals who have effectively been running the pub for her for some time. More news as it emerges!! News in July 2014 that a local (in walking distance) gentleman will be taking over the pub shortly by private purchase and will keep the ground floor as is but may renovate the living accommodation upstairs to provide extra income. The new owner has now taken over and nothing has changed except the beer supplier.
We have visited this pub 14 times, seen 6 different beers and tried 5 of them.
Postcode: TN8 5NP