Boutilliers

(Brewery Tap)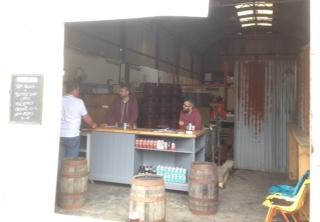 Visits Details
14 Sep 2017 (Jack William)
Lunchtime - pre-arranged visit for half a dozen micro fans. We were the only customers. Cold and drafty (it doesn't appear to have a door just an opening into the large tin structure. Knowledgeable brewers and a nice couple of their draft beers on - but seem to specialise in bottles and cans for the craft ale market.
| | | | |
| --- | --- | --- | --- |
| Boutilliers - Smoked Oatmeal Stout | 4.40 | | A very nice, drry smoky stout. I could almost taste the mackerel. |
| Boutilliers - Session Bitter | 3.50 | | Traditional malty bitter. |
Summary of Beer Scores
The pub is found in Faversham, Kent, ME13 8XF.
Tap room of the Boutilliers micro-brewery on the Macknades site. Very basic, one outside table plus a few chairs around a bar overlooking the rather utilitarian brewery building. Tap room and bottle shop open Tues and Fridays 10-4 (except by prior arrangement) and 11-6 on Saturdays.
We have visited this pub once, seen 2 different beers and tried both.
Postcode: ME13 8XF