Partizan Brewing Tap Room

(Brewery)
Visits Details
02 Feb 2018 (Stephen Harris)
My first visit to the new and much more-spacious Partizan Brewery. There is some kind of bottle share thing going on plus a small number of random customers looking in.
| | | | |
| --- | --- | --- | --- |
| Partizan - Atomium | 5.50 | | From key-keg. A cloudy, golden, Belgian-style IPA. Strong-tasting, with an obvious Belgian yeastiness. |
| Partizan - IPA Mosaic | 6.50 | | From a key-keg. Golden and cloudy. Full of lovely Mosaic hops. |
| Partizan - Saison: Lemongrass | 3.80 | | From a key-keg. Golden and cloudy. Lots of great lemongrass flavours on a tart background. It really works. |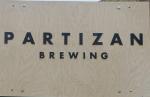 Summary of Beer Scores
The pub is found in Bermondsey, Central London, SE16 2DB.
Partizan Brewing was established in a Bermondsey railway arch in Almond Street in 2012. Rapid growth and a busy weekend tap room eventually saw a move to much larger premises nearby in Raymouth Road, with the new Tap Room opening within the brewery in January 2018. The bar is open on Friday evenings and on Saturdays. No cask beers are ordinarily sold here.
We have visited this pub once, seen 3 different beers and tried them all.
Postcode: SE16 2DB