The Bankers Draft

(Wetherspoon)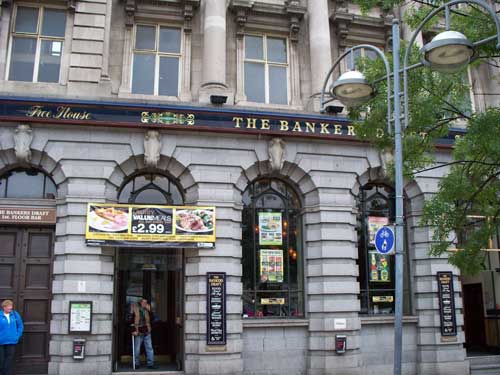 Visits Details
10 Sep 2011 (Martin the Mildman)
| | | | |
| --- | --- | --- | --- |
| Shepherd Neame - Firestone Red Nectar Ale | 5.00 | | Rather metallic tasting with a slight aroma of mouthwash. An unremarkable strong bitter beer. My score 14/20. |
| Box Steam - Hell of a Ride | 4.20 | | Amber bitter with most bitterness deriving from malt. Little hop character and a dry, bitter finish. My score 13/20. |
15 Apr 2011 (Pedro)
Early evening
| | | | |
| --- | --- | --- | --- |
| Weltons - Chocolate Mild | 3.90 | | |
| Springhead - The Bees Knees (superseded by 3.9% version) | 4.20 | | |
| Greene King - Abbot Ale | 5.00 | Not Tried | |
| Greene King - Ruddles Best | 3.70 | Not Tried | |
| Oakham - Taipan | 4.90 | Not Tried | |
| Hawkshead - Cumbrian Five Hop | 5.00 | Not Tried | |
| Banks's - Jamaica Stout | 5.00 | Not Tried | |
| Acorn - 1887 | 5.00 | Not Tried | |
| Lancaster - Kingmaker | 5.00 | Not Tried | |
| Titanic - Tug Light Mild | 4.00 | Not Tried | |
24 Apr 2010 (Martin the Mildman)
| | | | |
| --- | --- | --- | --- |
| Daleside - Spring Frenzy | 3.40 | | Surprisingly full flavoured for its strength with good biscuity malt dominant over hoppiness. My score 15/20. |
| Rooster's - Patriot | 4.70 | | Pale strong bitter with an earthy, grassy hop flavour that is not really to my taste. My score 13/20. |
17 Jul 2009 (Ian)
First full day of the Ratebeer European Summer Gathering 2009. We more or less all met up here to have breakfast, have one or two beers and to say hello to some friends we haven't seen in a year or two.
| | | | |
| --- | --- | --- | --- |
| Acorn - Ginger Nuts | 4.20 | | Gold, lasting off white head. Decent golden ale with some ginger, not too strong, but enough for interest. |
Summary of Beer Scores
The pub is found in Sheffield, South Yorkshire, S1 2GH.
Converted bank on Castle Square in centre of Sheffield and a good place to meet up. Two floors with some different beers on each bar. Typical large Wetherspoon's drinking hall.
We have visited this pub 4 times, seen 15 different beers and tried 7 of them.
Postcode: S1 2GH