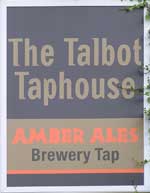 Summary of Beer Scores
The pub is found in Ripley, Derbyshire, DE5 3SW.
The Amber Ales brewery tap, the Talbot Taphouse, is a renovated ex-Shipstone's tavern, occupying a flat iron site, and will be appreciated by those who seek quiet conversation whilst choosing from a fine selection of beers and continental brews. Naturally, Amber Ales feature strongly though a couple of changing guests augment them. This pub opened in December 2009. Fully refurbished in a light, modern style with a central bar. 6 Amber Ales, 2 guests and 1 real cider are on offer, and a good food menu plus bar snacks available too. Found at the top of Butterley Hill, a short stroll from the centre of Ripley. The Brewery itself is located in nearby Pentrich and tours and tutored tastings are available. Very friendly place, recommended.
We have visited this pub twice, seen 14 different beers and tried 5 of them.
Postcode: DE5 3SW