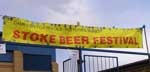 Summary of Beer Scores
The pub is found in Stoke-on-Trent, Staffordshire, ST4 2RR.
A venue change this year, from the old, and smaller, Kings Hall (round the corner from the Wetherspoons) to this capacious venue, the Fenton Manor Sports & Leisure complex, on City Road. A short walk from the station or Stoke centre with regular buses passing by too. A much larger, very modern building. Over 200 real ales, ciders, perrys, foreign ales and wines on offer. Good food and facilities and plenty of tables/chairs. Recommended.
We have visited this pub once, seen 11 different beers and tried them all.
Postcode: ST4 2RR