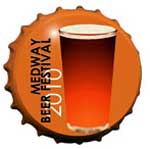 Summary of Beer Scores
The pub is found in Chatham, Kent, ME4 6BB.
This 9th edition, held at the impressive Stanley Ballroom of the St George Hotel, on New Road Avenue, entrance in Gundulph Lane. A large, old type venue, with plenty of seating. Live music for the evening sessions and good value hot food on offer. Three bar areas selling over 50 real ales, plus a large selection of cider, perry and foreign beers. This very successful and popular annual event is run and licensed by local landlord, John Brice, of the King George V in nearby Brompton (Gillingham), with the help of many unpaid volunteers. Recommended.
We have visited this pub once, seen 15 different beers and tried them all.
Postcode: ME4 6BB