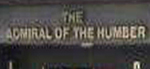 Summary of Beer Scores
The pub is found in Kingston upon Hull, East Yorkshire, HU1 2NT.
Very basic Wetherspoon's in Anlaby Road which opened in December 2000. The name of this pub recalls the Royal Charter granted to Hull Corporation, in 1447, to elect a suitable and discreet man as Admiral of the Humber. The City's Lord Mayor is still elected to that office, although its power no longer exists. This site is part of Grosvenor House, a name echoed in the Grosvenor pub, which once stood a few metres away. Grosvenor House was built on the site of the Master Mariner Almshouse, erected by Trinity House in 1834. It was known to the inmates as The Ship, from the carving of a ship's hull on top of this grand building. In 1937, there were 48 inmates. Four years later, the almshouse was destroyed by enemy action, and the site cleared in the 1950s.
We have visited this pub twice, seen 12 different beers and tried 2 of them.
Postcode: HU1 2NT