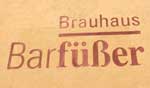 Summary of Beer Scores
The pub is found in Neu-Ulm, Germany, 89231.
A very large, modern brewpub, part of a chain of four brewpubs in the area with the Barfüsser name. There are several rooms inside and an enormous beer garden, sloping down to the Danube, which flows past the pub.
We have visited this pub once, seen 3 different beers and tried 2 of them.
Postcode: 89231