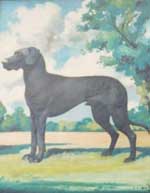 Summary of Beer Scores
The pub is found in Kennington, Greater London, SE11 5ER.
Once a rather shabby Watney's pub in an insalubrious area, The Black Dog has moved substantially upmarket and now trades as a Freehouse. There is a single bar area, with wooden floorboards and wooden furniture. The bar itself is a simple affair, but with lovely stained glass behind. Alongside is an open-plan kitchen, with food served from breakfast through to late evening. There is a small yard at the rear, or parkland across the road for outside drinking.
We have visited this pub 3 times, seen 9 different beers and tried 3 of them.
Postcode: SE11 5ER