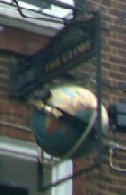 Summary of Beer Scores
The pub is found in Covent Garden, Central London, WC2E 7AU.
Next door to the Marquess of Anglesey in Bow Street. Good narrow pub interior, dark red colours and dark wood. Upstairs Opera Bar. Ground floor bar on one side of the pub with seating around the edge. Feel of a proper pub. Acquired by City Pub Company in April 2018 and renamed again November 2018.
We have visited this pub once, seen 3 different beers and tried 1 of them.
Postcode: WC2E 7AU