Crabble Corn Mill Beer Festival 2006

(Beer Festival)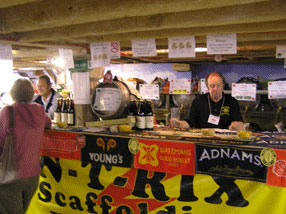 Visits Details
27 May 2006 (Andrew)
What a great venue for a beer festival. It felt just like the kind of place you'd expect to have a beer in. Got there just after it opened and already there was a bus load of people pouring in.
| | | | |
| --- | --- | --- | --- |
| Goacher's - Real Mild Ale | 3.40 | | Lasting thin head on this black-puple beer. Strong coffee smell. Thin chocolate and coffee flavours to start with. Short lived burnt coffee finish. Shame really as this beer can be fantastic |
| Goacher's - Fine Light Ale | 3.70 | | Whiff of marmalade with a thin sharp bitter bite and little else going on. Shame as this too can be a fanstastic beer |
| Goacher's - Best Dark Ale (aka Original) | 4.10 | | Badged as Goacher's Dark. A dark brown beer. Balding head and a slight goacher's smell to it. Slight attrified burnt treacle taste but not much going on which is a shame as this can be a lovely beer |
| Woodforde's - Wherry | 3.80 | | Pale gold colour with a sparse but high head. Young citric smell with young yeasty citric thin finish. A pale shaddow of what I know Wherry can be |
| Larkins - Best Bitter | 4.40 | | Cloudy so probably bottom of barrel stuff. Smelt of summer fruits and had a sharp grapefruit bitterness to it. I suspect this is a far better beer than this pint suggested. |
27 May 2006 (Ian)
Arrived at opening time on the Saturday. Some of the beers had gone on what was reported to be a very busy Friday night, however, there were still plenty of beers to try and a separate stillage to be opened later on Saturday to ensure that the beer did not run out.
| | | | |
| --- | --- | --- | --- |
| Fuller's (part of Asahi Europe) - Vintage Ale | 8.50 | | Badged as Crabble Mill Vintage Miller's Ale 2005, this tasted to me, like Fuller's Vintage Ale 2005. Aroma of syrup and molasses, some hop. Hoppy and full in mouth with toffee, treacle and brown sugar. Lovely |
| Larkins - Chiddingstone | 4.00 | | Amber colour, no head. Quite a refreshing bitter. Good hop which makes it quite sharply bitter especially on the finish. Some floralness. |
| Brakspear (at Marston's Wychwood) - Special | 4.30 | | Chestnut colour with beige head. Yeasty aroma, toffee in middle and then hop on end. Rubbery hop finish. Bitter, bit chewy in mouth. I really like it. Excellent best bitter. |
| Woodforde's - Wherry | 3.80 | | Fine, but not up to its usual standard |
| Shepherd Neame - Whitstable Bay Organic Ale | 4.50 | | Copper colour with white bubbly head. Sheps yeast. Bit wet in mouth. Some bitterness on end. Flowery hop, quite nice, but just a bit nothingy |
| Hook Norton - Best Bitter | 3.40 | | Easy drinking session bitter, some hop, some dryness |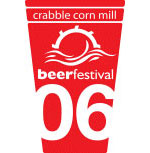 Summary of Beer Scores
The Beer Festival is found in Dover, Kent, CT17 0UY.
This festival takes place in the renovated Crabble Corn Mill just outside of Dover. Set on the river, the mill itself is a working museum to flour milling. The beer is dispensed from casks on gravity from stillages on the ground floor. There is additional seating upstairs and in the garden. Music is on offer as well as a barbecue and other food.
We have visited this Beer Festival twice, seen 9 different beers and tried them all.
Postcode: CT17 0UY