Les Fleurs (formerly Sir John Falstaff)

(Freehouse)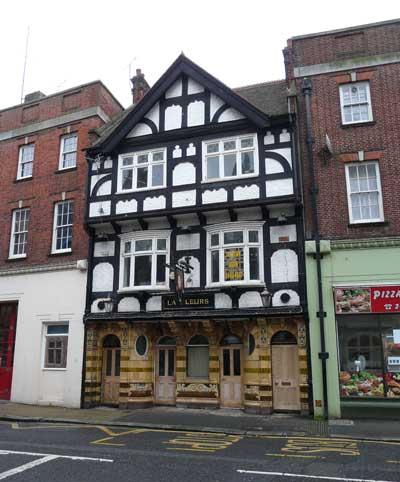 Visits Details
15 Dec 2016 (Jack William)
Early evening - a few in but no ales on - I left briskly for the Rack.
30 Oct 2015 (ChrisE)
I have seen this place in a derelict state for a good many years so it was nice to see the exterior fully restored and the pub open. The interior has been opened out with the bar along one of the side walls. I sat and tried to work out what it must have looked like at one time but gave up. I am not sure whether this pub ever opened under the names of SJF or La Fleurs but the current name is Les Fleurs.
| | | | |
| --- | --- | --- | --- |
| Greene King - London Glory | 4.10 | | Just a half as this pub was not on my original itinerary for this evening. A pleasant enough beer. |
06 Jun 2015 (Philip Pirrip)
Evening. Seeing a fascia board name La Fleurs (although the a in La has fallen off) I dallied in a nosey mood. There have been so many reports of false starts on re-opening here. Whilst peering through the window a fellow came in off the street and stopped to tell me he expected to reopen as a bar in the next 4 weeks. The state of the inside suggested to me a rather longer job.
21 Aug 2013 (Philip Pirrip)
Evening. Pub sign now re-painted and sketchily added S.J.F. initials on it one wonders on progress to re-opening.
18 Aug 2013 (Philip Pirrip)
Reported in CAMRA Dover, Deal and Sandwich branch's magazine Summer 2013 Channel Draught that the pub was only a few weeks away from re-opening as The Fleurs. The new owner is new to the trade and is a former farmer and stonemason.
29 Jun 2013 (Philip Pirrip)
Evening. Still closed but seemingly works in progress inside. Great tiled exterior.
22 Sep 2012 (Alenomore)
Sad to see this impressive old pub boarded up. Not sure how long it's been like this, or what the future is. The exterior frontage is well worth a look.