Dick Whittington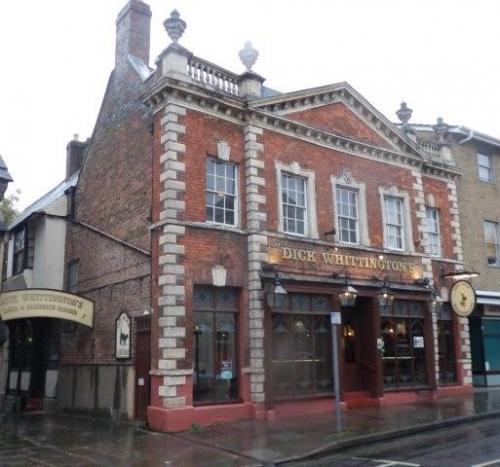 Stephen Harris
Visits Details
03 Nov 2012 (Stephen Harris)
Rather like the good Doctor Foster I arrived in Gloucester in a shower of rain. I sheltered in here in a deep sofa, listening to, but not observing, the Gloucester Fireworks display. It continued to rain for at least 12 hours, causing some local flooding.
| | | | |
| --- | --- | --- | --- |
| Severn Vale - Luverly Jub'lee | 4.20 | | A golden beer with a big hop load – flowery and bitter hop tastes. |
| Bespoke - Saved by the Bell | 3.80 | | Pale and bitter. |
| Cottage - Howling Ale | 4.50 | | I usually tend to steer clear of Cottage beers, but was bounced into ordering a half of this when the stout ran-out on me. A fruity, malty, amber bitter that was blandly fine. |
| Marston's - Wychwood Hobgoblin Ruby Beer (was Hobgoblin) | 4.50 | Not Tried | |
| Eagle (formerly Wells & Young's, formerly Charles Wells, formerly Wells) - Bombardier (was Bombardier Glorious English) (use Banks's entry now please) | 4.10 | Not Tried | |
| Bespoke - Money For Old Rope | 4.80 | Not Tried | A stout which expired before I had a chance to try it. |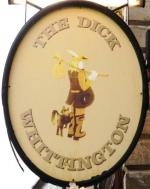 Summary of Beer Scores
The pub is found in Gloucester, Gloucestershire, GL1 2PE.
A large, comfortable, city centre pub in Westgate Street. The very extensive main bar area has many tables laid for dining, but also plenty of room for drinkers. It resembles a hotel bar in some respects. There is also a large garden to the rear. The building has an interesting old red-brick facade, hiding a much older property behind, which has family connections to the former Lord Mayor of London himself. This pub is a good supporter of local breweries.
We have visited this pub once, seen 6 different beers and tried 3 of them.
Postcode: GL1 2PE