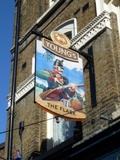 Summary of Beer Scores
The pub is found in Hampstead, Greater London, NW3 1HE.
Two bar historic pub in passageway off main road. Rear restaurant has been fully gastroised, and right hand bar has had a serious makeover. The left hand bar is still fairly traditional in furnishings and décor. 5 handpumps in each of the two bars.
We have visited this pub twice, seen 6 different beers and tried 2 of them.
Postcode: NW3 1HE