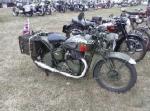 The pub is found in Aylesford, Kent, ME20 7BX.
Not a pub but the world renowned Aylesford Priory, also known as the Friars, Aylesford. A full account of its history and all events and happenings can be found on the website. Within these grounds the annual International West Kent run weekend is held. One of the attractions of note here is the marquee selling local ales. A well attended and popular vintage motorcycle event that attracts visitors from across the UK and Europe.
We have visited this pub once, seen 3 different beers and tried 0 of them.
Postcode: ME20 7BX