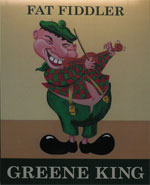 Summary of Beer Scores
The pub is found in Ashford, Kent, TN23 1EY.
Once a large 2 roomed pub in Station Road. One room had a pool table in it and the other was more relaxed with lots of pine furniture. Originally Kent Arms then Fat Fiddler then Platform 5 then Breeze and now a bar and potential shisha lounge with no real ale.
We have visited this pub twice, seen 1 beer and tried it.
Postcode: TN23 1EY