Kings Arms
Visits Details
31 Aug 2013 (Philip Pirrip)
Evening. Dearth of handpumps implies this is not a wet led house.
| | | | |
| --- | --- | --- | --- |
| Brains - The Rev James Original | 4.50 | | |
| Greene King - IPA | 3.60 | Not Tried | |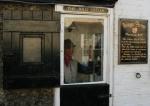 Summary of Beer Scores
The pub is found in Shoreham, Kent, TN14 7SJ.
Located in Church Street in what, at night, is a very dark village. 2 handpumps in the corner of the front bar counter and a second serving counter exists at the back with a small niche for TV screen viewing. Most of the floor is carpeted and intended for diners. 2 ancient large willow trees adorn the car park. The pub frontage has a unique Ostler's Box complete with an ever-present wax dummy of an ostler who is always waiting for that next elusive equestrian visitor.
We have visited this pub once, seen 2 different beers and tried 1 of them.
Postcode: TN14 7SJ