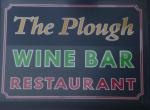 Summary of Beer Scores
The pub is found in Homerton, Greater London, E9 6JP.
This pub was present as the Plough in Homerton High Street by 1734, when landlady Martha Collins was summonsed for keeping an "ill-governed and disorderly ale-house". Eighteenth century sales documents reveal that the pub had at that time stabling, a skittle ground, a shuffleboard room, a garden and its own slaughterhouse. In the early nineteenth century, beer was brewed on site. The pub was then acquired in 1835 by the Buxton and Hanbury families, brewers of Spitalfields; the start of what became a long association with Truman's Brewery. The old pub was demolished and rebuilt in around 1877 and again rebuilt in 1898 as it exists today, with a distinctive, octagonal corner turret. The pub has had a chequered start to the 2000s, trading for a while as Jerry's Bar & Restaurant and more recently as a BBQ restaurant and wine bar. The pub re-opened in September 2013 after an extensive refurbishment and return to traditional pub values. It is now all one room, with a stripped-back decor and simple furniture. The old bar back has survived, as has a decorative glazed tile panel of a ploughman and his team. In December 2016 this pub was added to the growing chain of BrewDog pubs and yet it abruptly closed again in May 2017. Reopened and reverted to original name Plough by Tiny Dancer Group with several national real ales.
We have visited this pub 3 times, seen 8 different beers and tried 5 of them.
Postcode: E9 6JP