The George

(Greene King)

We believe this building is NO LONGER a pub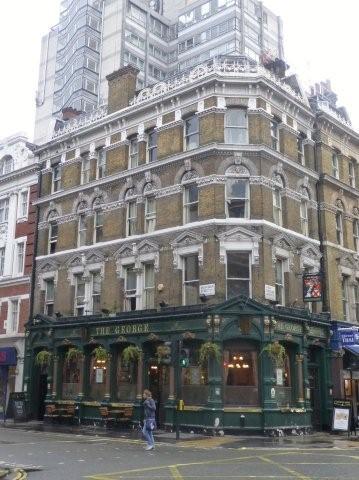 Visits Details
09 Sep 2013 (Stephen Harris)
Greene King seem to be making a special effort to improve the beer offering in their London pubs just now – but I somehow allowed myself to fall for the sucker beer in here. Very nice pub though.
| | | | |
| --- | --- | --- | --- |
| Belhaven - Herok & Howell's Festival Ale | 3.80 | | Rather laughably, this is described as an "American-style IPA". Personally, I have never come across such a low-strength or bland US IPA. I could not see the word 'Belhaven' on the pump-clip, although it might be there. Darkish, with caramel and butterscotch tastes. Just a hint of decent hops. Tastes a lot like the regular Greene King IPA with a dash of Cascade in fact. |
| Everards (see entries against Joule's & Robinsons from now on) - Tiger | 4.20 | Not Tried | |
| St Austell - Tribute | 4.20 | Not Tried | |
| Black Sheep - Golden Sheep | 3.90 | Not Tried | |
| Greene King - IPA Gold | 4.10 | Not Tried | |
Summary of Beer Scores
The pub is found in Fitzrovia, Central London, W1W 7LQ.
This pub was present by 1869 and is an ornate, four-storey, yellow-brick, street corner pub. Internally it now features a small-ish, single front bar area and an almost separate rear room. There are several surviving features from the late-Victorian period, including the wooden bar back. The back room is wood-panelled and has some great gilded and etched mirrors and all through the pub are some lovely wall-mounted ceramic panels featuring hunting scenes. Now owned by Greene King, it is good to see it has reverted to a pictorial pub sign after a period with a bland, generic, company sign. Closed 2nd July 2016 with permitted developments authority to combine with next door building for a variety of possible uses on the ground floor, including residential above the ground floor.
We have visited this pub once, seen 5 different beers and tried 1 of them.
Postcode: W1W 7LQ