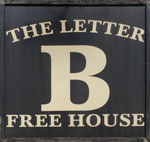 Summary of Beer Scores
The pub is found in Whittlesey, Cambridgeshire, PE7 1DE.
Two bar street corner pub with two bars. The unusual name dates from an increase in licences for the growing town and they were issued with distinguishing letters to be named properly later. The letter B remained as its name.
We have visited this pub twice, seen 16 different beers and tried 2 of them.
Postcode: PE7 1DE