Caves da Cerveja

(Unicer)
Visits Details
12 Jan 2014 (Stephen Harris)
Very quiet on a Sunday evening, with just a couple of other tables taken. We enjoyed a good steak and chips dinner and made inroads into the four house beers that were available alongside national brands.
| | | | |
| --- | --- | --- | --- |
| Unicer - Natal | 8.00 | | Christmas special beer. Dark and very rich, full-bodied and warming. |
| Unicer - Artisanal | 5.20 | | Far better than this brewery's standard Super Bock. Like a pale, unfiltered German Hell. |
| Unicer - Stout | 5.00 | | Black, full-bodied stout. |
| Unicer - Puro Malte | 5.20 | Not Tried | |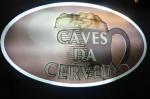 Summary of Beer Scores
The pub is found in Porto, Portugal, 4400.
Beer specialist bar/restaurant on the Gaia quayside in central Porto. The bar takes up one of a line of identical glass-box units next to the river. The intention is to look like a brew-pub and there is plenty of brewing equipment on the premises. But there are no claims that it is actually a brew-pub, and the beers are described as 'exclusively available'. A very similar bar exists in Lisbon, both are owned by Unicer, and the assumption has to be that the beers are brewed on an Unicer pilot brewery somewhere.
We have visited this pub once, seen 4 different beers and tried 3 of them.
Postcode: 4400