Yard Bar & Kitchen

(Brains)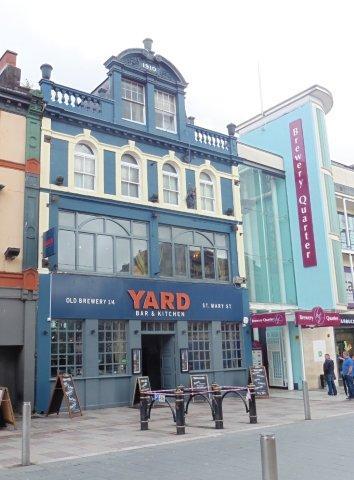 Visits Details
23 Aug 2015 (Stephen Harris)
Early afternoon and this huge pub is very quiet Ė just a handful of tables occupied. Sadly, I donít think I ever came here in its glory days.
| | | | |
| --- | --- | --- | --- |
| Brains - Cambrian Pale | 4.60 | | A hazy, amber-coloured pint. Not really in best condition. Hopped with Cascade and Mandarina, but does not deliver on the promise and comes across as being rather bland. |
| Brains - SA | 4.20 | Not Tried | |
| Brains - The Rev James Original | 4.50 | Not Tried | |
28 Apr 2014 (Philip Pirrip)
Evening. A walking and a walk-in disaster. At the rear bar counter I waited 7 minutes to be served, amongst others, with no sign of any bar staff. A Mary Celeste House so jumped ship. Just happy memories as a past brewery tap swilling house now consigned to the bin marked gentrification.

Summary of Beer Scores
The pub is found in Cardiff, Glamorgan, CF10 1AD.
On St Mary Street, formerly the Albert which was the brewery tap before Brains moved further out of the City. A major transformation of what was superb beer swilling house into a gentrified stainless steel palace. There is a bar on the left just inside the main entrance and has 3 handpumps with eye-level swans' neck outlets. There are a further 6 another bar counter further back inside the venue. Lots of Brains Craft Brewery fizz taps too.
We have visited this pub twice, seen 3 different beers and tried 1 of them.
Postcode: CF10 1AD