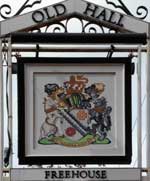 Summary of Beer Scores
The pub is found in Sandbach, Cheshire, CW11 1AL.
Magnificently restored four hundred year old timber framed manor house. Six handpumps with an ever changing range of beers. Two bars with the rear bar serving a seating area that includes armchairs around the fireplace. Three distinct rooms with a dining room to the rear. Unusually one passageway goes right between the two bar counters.
We have visited this pub 3 times, seen 12 different beers and tried 7 of them.
Postcode: CW11 1AL