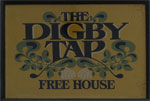 Summary of Beer Scores
The pub is found in Sherborne, Dorset, DT9 3NS.
Old stone pub found in a narrow back lane near the Abbey. The interior consists of broken up drinking areas and there's a small front yard with seating.
We have visited this pub twice, seen 8 different beers and tried 4 of them.
Postcode: DT9 3NS