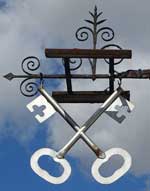 Summary of Beer Scores
The pub is found in Thame, Oxfordshire, OX9 3JS.
In East Street, transformed from a failing keg only dive, this fantastic pub serves plentiful ales to a discerning drinker. Usually busy, the bar will see at least two beers change every day over the weekend, and more during the week. Keep a close eye on Twitter for unusual beers, but be warned, they will go quickly! With cribbage, and other bar games available, you can easily wend an afternoon and evening away. Local CAMRA branch Pub of the Year 2016 and 2017. Local CAMRA branch Cider Pub of the Year 2016 and 2017.
We have visited this pub twice, seen 16 different beers and tried 9 of them.
Postcode: OX9 3JS