Waterend Barn

(Wetherspoon)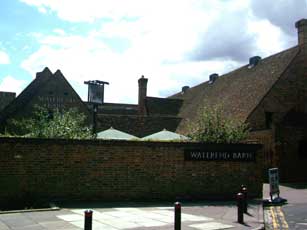 Visits Details
15 Jul 2009 (Martin the Mildman)
| | | | |
| --- | --- | --- | --- |
| B&T (Banks & Taylor's) - Black Dragon Mild | 4.30 | | Sweet, fruity malt character, low hop rate and a full bodied flavour make this a classic stronger dark mild. My score 16/20 |
| Rebellion - Market Collapse | 4.40 | Not Tried | |
07 Jul 2007 (Ian)
Mid Saturday afternoon and there were some late lunchtime crowd in. I was totally blown away by the building to be honest and the beer was almost secondary.
| | | | |
| --- | --- | --- | --- |
| RCH - Double Header | 5.30 | | Copper colour with creamy cream head. Beer is fine. Decent juicy fruity malt. Decent hop on finish. Above average bitter. Good bitterness. |
| Marston's - Pedigree | 4.50 | Not Tried | |

Summary of Beer Scores
The pub is found in St Albans, Hertfordshire, AL1 3LE.
In terms of buildings, one of the most impressive Wetherspoon conversions I've been in. Main bar is a huge high half timbered space with a large fireplace at one end and long bar down one side. There is a middle family room with sofas and a fire and a rear piano bar with mini grand piano and comfy leather chairs.
We have visited this pub twice, seen 4 different beers and tried 2 of them.
Postcode: AL1 3LE