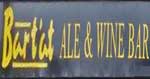 Summary of Beer Scores
The pub is found in Ilkley, West Yorkshire, LS29 9DZ.
Conversion of a shop and garage to form a two storey pub and wine bar. Lower floor is primarily for dining. Not as pubby a feel as other Market Town Taverns.
We have visited this pub once, seen 8 different beers and tried 1 of them.
Postcode: LS29 9DZ