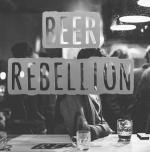 Summary of Beer Scores
The pub is found in Upper Norwood, Greater London, SE19 1PL.
The original Late Knights Brewery Beer Rebellion "pop-up" pub at No. 128 Gipsy Hill closed in October 2014 and was relocated next door to here at No. 126 in a former Coomes bookmaker's. Right opposite Gipsy Hill railway station. An open-to-view kitchen initially installed was later removed. With demise of Late Knights Brewery in August 2016 ownership and beer range changed. Closed Friday 19th October 2018. Re-opened end May 2019 having been taken over by the Bullfinch Brewery to convert into a tap room. Initially 15 keg taps but talk of 2 handpumps being installed for cask beer sale. Card payments only here, no cash accepted.
We have visited this pub twice, seen 11 different beers and tried 4 of them.
Postcode: SE19 1PL