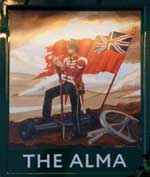 Summary of Beer Scores
The pub is found in Cambridge, Cambridgeshire, CB2 1HW.
Interesting pub, formerly called the Alma Brewery, and at one time a Tolly Cobbold tied house, and in the 1980s leased by CAMRA Investments. The original building was demolished in the 1990s and the replacement is in similar style, including low ceilings. One large room, rugby is important to the regulars.
We have visited this pub once, seen 6 different beers and tried 1 of them.
Postcode: CB2 1HW