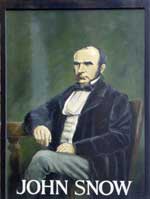 Summary of Beer Scores
The pub is found in Soho, Central London, W1F 9QJ.
Corner pub recently renovated, 2015, by Sam Smith in their traditional Mock-Victorian style. Very well done indeed, including a ¾ height door as seen at the Prince Alfred in Formosa Street. The pub is named after the famous doctor, John Snow, who proved the connection between cholera and contaminated water. No real ale.
We have visited this pub twice, seen 3 different beers and tried 2 of them.
Postcode: W1F 9QJ