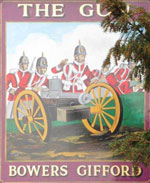 Summary of Beer Scores
The pub is found in Bowers Gifford, Essex, SS13 2DU.
A large, roadside pub that once stood in a country village but is now more-or-less absorbed into greater Basildon. There is a very large car park, an extensive porch, two modernised bar areas and a restaurant. The restaurant specialises in Persian cuisine.
We have visited this pub once, seen 3 different beers and tried 1 of them.
Postcode: SS13 2DU