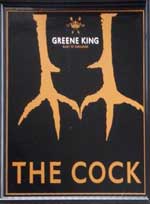 Summary of Beer Scores
The pub is found in Hitchin, Hertfordshire, SG5 1BH.
The remnant of a much larger coaching inn the majority of which was knocked down between the wars to build a Woolworth's. The remaining pub is a long thin building with a small snug area to the front, the bar, and then the dining area.
We have visited this pub once, seen 2 different beers and tried 1 of them.
Postcode: SG5 1BH