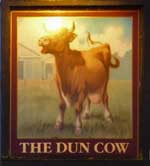 The pub is found in Shrewsbury, Shropshire, SY2 6AL.
Very ancient building supposedly built for the masons working on the nearby abbey in the 11th Century. Parts maybe. Lost of beams and a magnificent fireplace. One beam has an unusual carved figure and the printed pub history claims that some of the beams came from Spanish galleons. The same history claims that the name Dun Cow is a corruption of the name of a former Landlord. Someone doesn't know their Shropshire folk lore.
We have visited this pub once, seen 3 different beers and tried 0 of them.
Postcode: SY2 6AL