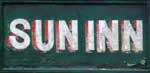 Summary of Beer Scores
The pub is found in Leintwardine, Herefordshire, SY7 0LP.
This was arguably the most unspoilt pub left in England up to 2009. Up to then the pub consisted of a basic public room, a small parlour where the Landlady Flossie Lane, who had been here since she was 20, would sit, and a kitchen where the cask of beer sat and jars holding change. Flossie was in her nineties, locals put the beer up and customers, of which I was one occasionally, helped themselves to beer and paid and took change on trust. Flossie passed away in 2009 and the pub was threatened with closure. Purchased by local businessmen, the pub has been extended with a large two level high roofed room at the back with a bar counter. The kitchen is no longer open to the public but the public room and parlour have been preserved as they were. A nice touch is a copy of Flossie's funeral Order of Service on the mantelpiece in the public room.
We have visited this pub 3 times, seen 5 different beers and tried 3 of them.
Postcode: SY7 0LP