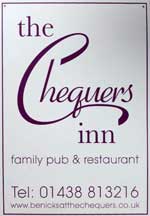 Summary of Beer Scores
The pub is found in Woolmer Green, Hertfordshire, SG3 6JP.
An inter-war roadhouse on the old Great North Road. The typical design of these was two bars and a separate dining room to one side. The original form can still be discerned, although both bars are now knocked into one albeit still partially divided by a chimney-piece. The dining room is now a rather smart restaurant. The bar counter would appear to be original. The former public bar still has a bar billiards table and the garden contains a small zoo housing a number of small birds and mammals.
We have visited this pub once, seen 3 different beers and tried 1 of them.
Postcode: SG3 6JP