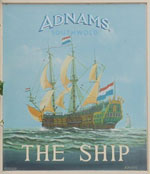 Summary of Beer Scores
The pub is found in Levington, Suffolk, IP10 0LQ.
A picturesque village pub of ancient origins, next door to a beautiful old church and with views over the fields down to the River Orwell. Thatched roof and multi-roomed, although much opened out and modernised inside. There are tables at the front beside the quiet lane and a decking area to the rear, plus a large car park. Gutted by a fire in March 2019 (it had been affected similarly in 2002) so closed for what is expected to be a long time.
We have visited this pub once, seen 4 different beers and tried 1 of them.
Postcode: IP10 0LQ